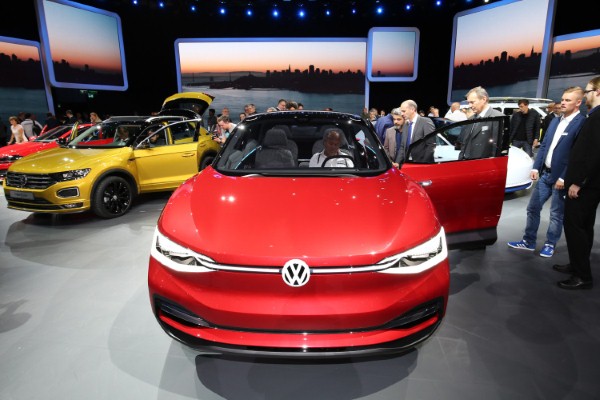 Volkswagen will offer at least 23 all-electric models by 2025; that's the commitment made by the German car maker this week at the Frankfurt Motor Show.
Currently, VW's range boasts just two fully-electric cars – the e-up! and e-Golf – which have been relative successes, while plug-in petrol-electric hybrid variants of the Passat, Golf and Tiguan SUV are also available.
VW's electric evolution will enter its next phase with the launch of the new I.D.CROZZ in 2020. The battery-powered four-door coupe-SUV crossover was presented as a concept car at the Frankfurt event and has been systematically developed with every intention of going into production, VW claims.
The I.D.CROZZ's interior is said to be very spacious with a versatile seating layout, while the cabin is kept fresh, thanks to the CleanAir system.
B-pillars have been omitted so that the large swinging and sliding doors can be opened wide. This more open entrance means it is possible to easily transport a crossbike, while the doors can be opened and closed by voice command.
The driver can literally tell the I.D.CROZZ to assume the controls and drive itself too.
An electric motor is attached to each of the front and rear wheel axles, with the 225kW (301bhp) drivetrain capable of driving for up to 310 miles on a single charge. It can reach speeds of 111mph too.
Elsewhere at Frankfurt, Volkswagen was showing off its new petrol and diesel-fuelled T-Roc compact SUV, Polo GTI and updated Golf Sportsvan.
Over the next five years, VW will be investing about €3.5 billion into optimising conventional diesel, gasoline and natural gas powertrains, as well as a further €6 billion in e-mobility.
VW chairman Dr Herbert Diess said the brand "has been contributing to individual mobility throughout the world for 70 years".
"Our task is to make advanced technology available to many people," he added. "This is why we will be offering 23 full electric vehicles by the year 2025, in addition to conventional powertrains."
Stephen Hasley, brand manager at the Green Journey, comments: "Many car makers are investigating the possibilities presented by plug-in vehicles, but VW is wise to continue developing and streamlining conventional petrol and diesel technology."