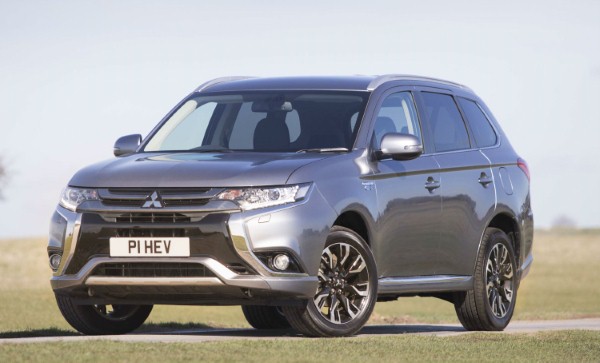 The Mitsubishi Outlander PHEV remains Britain's most popular plug-in vehicle, according to the latest figures from the Driver and Vehicle Licensing Agency (DVLA).
In the third quarter of 2017, there were 31,002 examples of Mitsubishi's plug-in SUV [pictured], which is 30.5 per cent more than at the same point a year earlier (23,751).
It is also considerably more than the second most prolific plug-in model on UK roads – the Nissan Leaf, which enjoyed a nine per cent rise over the last 12 months, with 18,922 examples.
After the two frontrunners, we drop out of five-figure examples to Mercedes' C350e, of which there were 8,634 examples in Britain during Q3 2017, followed by two from BMW – the i3 and 330e (8,365 and 7,402 respectively).
EVs still not an everyday sight
By the end of September 2017, there were 116,525 licensed vehicles on the roads that were eligible for the government's plug-in car and van grant schemes. This is 54 per cent more than the 75,797 eligible vehicles recorded 12 months earlier.
The plug-in vehicle grant scheme has been in effect since 2011 and slashes the price of a plug-in vehicle by between £2,500 and £8,000, depending on the model and its emissions.
Steve Gooding, director of the RAC Foundation, commented on the figures, saying they show that the world is still waiting for the moment when the ultra-green vehicle market really takes off.
"Electric vehicles are becoming more common, [but] they are yet to become an everyday sight," he said.
"While the 50 per cent year-on-year growth is encouraging, the low overall total shows why the government commitment to incentives made in the Budget is so important."
Stephen Hasley, brand manager at the Green Journey, added: "Despite the rise in electric cars, half of the most popular plug-in models use petrol or diesel, which suggests that motorists are still wary of the limited range offered by fully-electric cars."