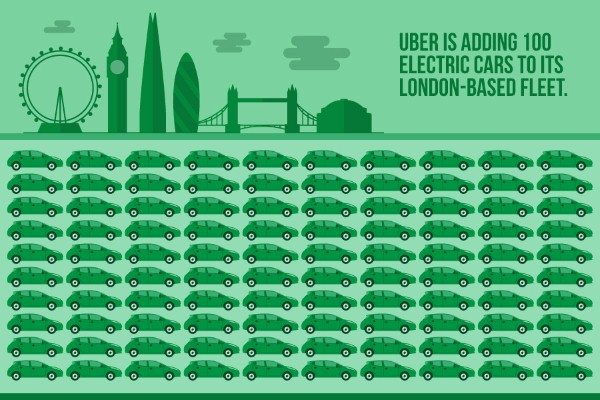 Uber will add 100 electric vehicles (EVs) to its London fleet after a successful trial that saw more than 35,000 customers ride in an EV over just three months.
More than 50 EVs took to the streets of the capital last September in a bid to see how battery-powered cars would work as private hire vehicles in London.
Now, Uber has announced a series of initiatives to introduce a further 100 Nissan Leafs as part of a partnership between the taxi-hailing service and the Japanese car maker, according to a report from NextGreenCar.com.
More than 60 per cent of Uber journey miles in London take place in petrol-electric hybrid cars, like the Toyota Prius, and this deal will see the EVs being offered to Uber drivers at a rate competitive with most popular hybrids. The first of these new Uber EVs will be delivered to Uber rental partners over the coming weeks.
Jo Bertram, regional general manager of Uber in the UK, said: "We believe that new technology can help tackle the challenge of air pollution in the capital. Londoners already associate Uber with hybrid cars, but we want to go even further with more drivers switching to fully electric ones."
To tackle the issue of regular charging requirements, Uber also plans to install its own rapid chargers around central London. The actual Uber app will be modified so electric taxi drivers will get trips that take them close to a rapid charging point. The move will help tackle air pollution in the capital.
Stephen Hasley, brand manager at the Green Journey, adds: "After championing hybrids, it is heartening to know that Uber isn't resting on its laurels and is instead focusing on rolling out more EVs."