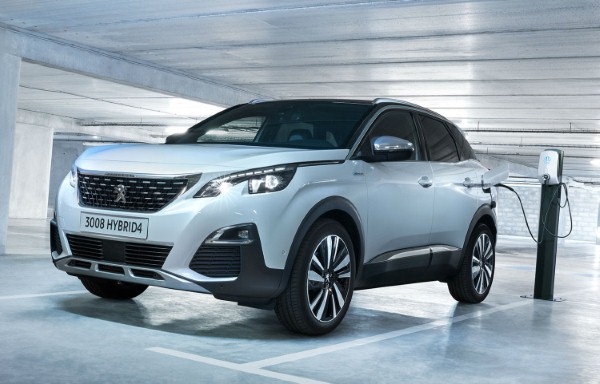 Peugeot will launch two new plug-in hybrid powertrains from next year.
The HYBRID and all-wheel-drive HYBRID4 petrol-electric plug-in powertrains will be offered in the Peugeot 3008 SUV and all-new 508 and 508 SW model ranges in autumn 2019.
Both powertrains make use of a high-voltage lithium-ion battery with a capacity between 11.8 KWh and 13.2KWh, allowing the cars to be driven on just electricity alone for up to 30 miles.
Electric power can restored whilst out on the road thanks to the i-Booster braking system, which conserves power as the car brakes or decelerates, while e-SAVE allows drivers to reserve electric energy for planned routes ahead.
Alternatively, drivers can simply recharge the vehicle in less than two hours by using a 6.6 kW 32A wallbox.
In the 508 and 508 SW plug-in hybrids, the 177bhp PureTech petrol engine works with a 80kW electric motor to create a combined maximum power of 221bhp. An official fuel economy figure hasn't been confirmed yet but CO2 emissions are said to limbo the 49g/km mark.
Meanwhile, the 3008 SUV uses a 295bhp four-wheel-drive hybrid system with multi-link rear suspension. It twins a more powerful 197bhp petrol engine with two electric motors (one at the front and the second at the rear) each reaching 108bhp.
This extra power means it can reach 62mph in 6.5 seconds, while the 13.2kWh battery is good for up to 30 miles of electric motoring.
Peugeot's product director Laurent Blanchet said: "Our plug-in hybrid engines are a unique opportunity for the brand to complement the powerful ranges of the 3008 SUV and the all-new 508 and 508 SW.
"They give our customers the opportunity to buy a powerful 3008 SUV AWD or a 508 that is efficient and provides improved sensations."
Stephen Hasley, brand manager at the Green Journey, added: "These new plug-in hybrid options provide the best of both worlds for motorists with the choice of all-electric motoring and a full petrol tank for longer drives."