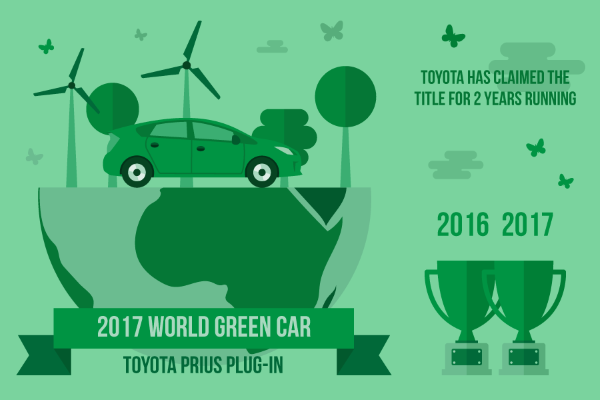 Toyota's Prius Plug-In Hybrid has been named 2017 World Green Car, fending off fellow category finalists Tesla Model X and Chevrolet Bolt.
The Prius' triumph means that Toyota has claimed the title for two years running after the hydrogen-fuelled Mirai came out on top in 2016.
The Prius Plug-In's powertrain brings together a 1.8-litre petrol engine and two electric motors, driving the front wheels, to achieve a combined fuel consumption of 282mpg and CO2 emissions of just 22g/km.
Additionally, the car can drive on electric power alone for more than 30 miles before propulsion is drawn from the petrol engine.
Reacting to the win, Jack Hollis, group vice president and general manager of Toyota North America, said: "It is a great honour to see the Prius Plug-in Hybrid named World Green Car.
"For global automakers like Toyota, this award is a testament to our focus on developing products that both stir the emotions and meet the mobility needs of our customers in all corners of the world."
Other cars shortlisted in the World Green Car category included the Honda Clarity, Hyundai Ioniq, Kia Niro, Mercedes-Benz GLC 350e, Audi Q7 e-tron and a hybrid Toyota RAV4.
Stephen Hasley, brand manager at the Green Journey, adds: "There were some strong names in this year's World Green Car group and after going 11 years without a win, it's amazing to see Toyota bag the award twice in two years."
How can I make my fleet more sustainable, reducing fleet costs and cutting emissions?
Start your Green Journey, the route to a sustainable world, by contacting us today.
This story was posted by Daniel Crosby, Assistant Marketing Executive at the Fuel Card Group.