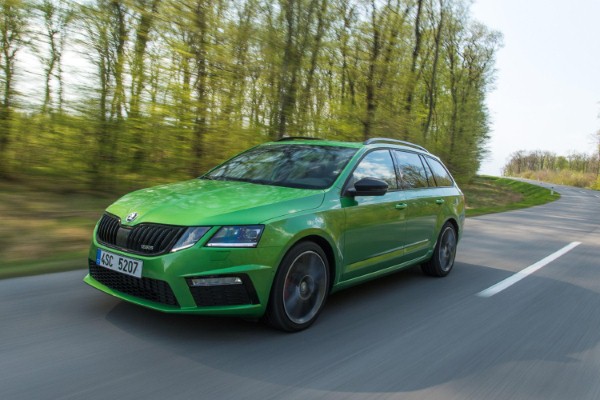 The greenest cars currently available in the UK have been recognised in the 2017 Green Apple Awards.
Now in their fifth year, the Green Apple Awards were presented at the House of Commons, with winners of the six individual categories decided by members of the Midland Group of Motoring Writers. Each group winner would proceed to be considered for the overall prize of Green Apple champion.
Rather than work through each segment from smallest to largest, we'll cut to the chase and tell you that the top honour was bagged by the best large family car – the Skoda Octavia [pictured].
A favourite among fleets and private buyers alike, the Golf-based cruiser strikes a fine balance between style, economy, budget, and driveability, but most importantly in this case, offers highly efficient and low-emitting engines.
One of the Green Apple judges said the Octavia was "fantastic value for money" and "offers unprecedented cabin space in this league". They added that it was "well finished, well appointed and [came with] some exceptionally economical engines that deliver on all fronts".
Suzuki's Celerio Dualjet reprised its win from last year in the supermini category. The judges said that compact cars with sprightly engines like the dinky Celerio were "helping to transform the automotive industry" and that the small Suzuki was one of the leading examples.
It would've been a double for Suzuki if its Swift hatchback didn't fall short of first place in the smaller family cars segment. As such, the SEAT Ibiza triumphed, thanks in part to its single-litre EcoTEC model.
The judges said this car's "lively little petrol engine recorded economy figures that wouldn't be out of place for a small diesel".
You already know that the larger family cars group was claimed by the Skoda Octavia ("a shining example of value and economy"), but second place was secured by the BMW 320d – a well-established favourite with company car drivers.
The Dacia Duster repeated its 2016 triumph in the SUVs and 4x4s category, fending off tough competition from the Mazda CX-3. The judges still had plenty of kind words for the Mazda, which they thought proved that a "larger unstrained, relaxed two-litre petrol engine can sip at fuel more parsimoniously than a buzzing three-cylinder unit".
The Renault Zoe won in the pure electric and hybrids group, while the final award went to the Jaguar XF for best executive car.
With a two-litre diesel under the bonnet, the judges said the big posh cat was "the genuine Jaguar experience on a budget: a big luxury car with almost surprising pace and economy from the four cylinder engine".
Stephen Hasley, brand manager at the Green Journey, added: "These awards prove that petrol and diesel cars are more efficient and greener than many people think and will continue to play a major part in how people get about for a long time yet."