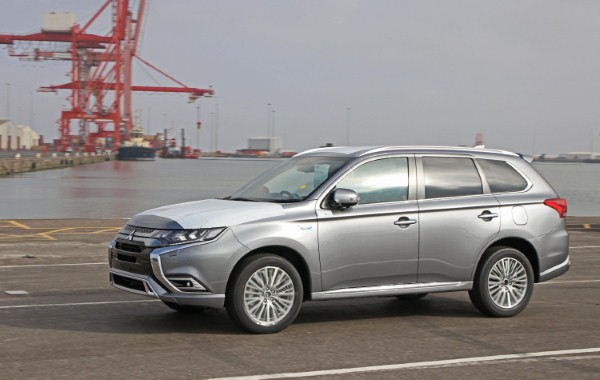 There's a new Mitsubishi Outlander PHEV on the way and the first batch of models have touched down in the UK, ahead of the second-gen model's launch this summer.
Around 400 examples arrived in the UK last week, with another batch of almost 2,000 vehicles set to follow in the coming weeks.
The Outlander PHEV is currently the UK's best-selling plug-in vehicle and the new model is expected to attract huge interest, due to its extended pure-electric range, increased power output and more aggressive styling.
Set to go on sale from August 1st, the new Outlander PHEV has been engineered to meet the latest emissions regulations and comfortably qualifies for the government's plug-in car grant, thanks to WLTP emissions of 46g/km and electric range of 28 miles.
The plug-in petrol-electric hybrid also attracts the lowest possible BIK rate of 13 per cent.
Under the bonnet is a new 2.4-litre Atkinson-cycle petrol engine producing 133bhp (up from 119bhp) with torque peaking at 211Nm (previously 190Nm).
Meanwhile, the rear electric motor output jumps to 93bhp and the drive battery benefits from a ten per cent increase in output, the overall capacity is increased to 13.8kWh, thanks to new battery cells – the end result is a phenomenal WLTP combined fuel economy of 139mpg.
Aside from its improved eco cred, Mitsubishi reckons the new Outlander PHEV is even more fun to drive, due to revised shock absorbers and a new 'Sport Mode' adding sharper throttle responsiveness and more grip via the Super All-Wheel Control system.
There's also the new 'Snow Mode' that improves low-grip launching and cornering abilities on slippery surfaces.
Finally, steering ratio has been revised and the power steering ECU remapped to offer more responsiveness and feel, while larger front brake discs boosts stopping power.
Rob Lindley, managing director at Mitsubishi Motors UK, believes that all the engineering improvements on the 2019 Outlander PHEV represent "a significant and progressive step forward".
He comments: "The Outlander PHEV remains the UK's most popular plug-in vehicle, and the revisions made for 2019 should help retain this status.
"[The new car] demonstrates Mitsubishi's knowledge and expertise as one of the pioneers of plug-in hybrid technology."
Stephen Hasley, brand manager at the Green Journey, adds: "Mitsubishi really struck gold with the original Outlander PHEV and all signs point to further success with this follow-up."