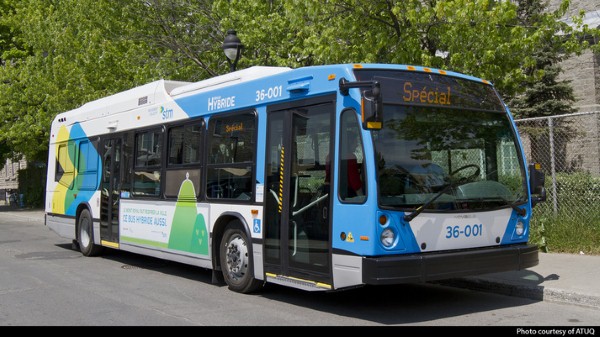 When Quebec's official transport body needed a batch of hybrid buses, who do you think they called? Toyota? Nissan?
How about British multinational defence, security, and aerospace company BAE Systems?
It may not be the most obvious vehicle provider but BAE Systems has delivered more than 9,000 electric-hybrid, battery-electric, and fuel-cell electric systems to date.
So it probably shouldn't have been surprising when the Association du Transport Urbain du Quebec (ATUQ) ordered 497 electric-hybrid buses using the BAE Systems Series-E electric drive propulsion system.
A five-year contract between the pair includes an option to order another 1,028 additional systems.
Bob Lamanna, global accounts manager at BAE Systems, revealed that their relationship went even deeper than that, with this recent order adding to the 900+ electric hybrids already handed over to ATUQ.
"The additional system orders validate the success of our product in the transit market and the need for electrified buses in Canada," he added.
Canada's ATUQ represents the nine Quebec public transportation organizations serving the major urban centres of the province: Montreal, Quebec City, Lévis, Laval, Longueuil, Gatineau, Trois-Rivières, Saguenay, and Sherbrooke. Combined, they provide more than 90 per cent of public transportation trips in Quebec.
ATUQ says it is focused on implementing sustainable, green technologies and is using BAE Systems' series electric-hybrid system as a step to achieving their goal of fully-electric systems in the future.
A statement from the association read: "This new order of buses will include the anti-idling feature decreasing fuel and emissions at stops, electrically powered heaters for less maintenance, and the ability to turn off the diesel engine in specified areas to create zero-emission driving zones."
BAE Systems says that it has delivered more than 9,000 hybrid systems worldwide, saving more than 20 million gallons of fuel and 215,000 tons of CO2 each year.
Stephen Hasley, brand manager at the Green Journey, commented: "It's great to see such a massive organisation like ATUQ take the lead on hybrid vehicles."