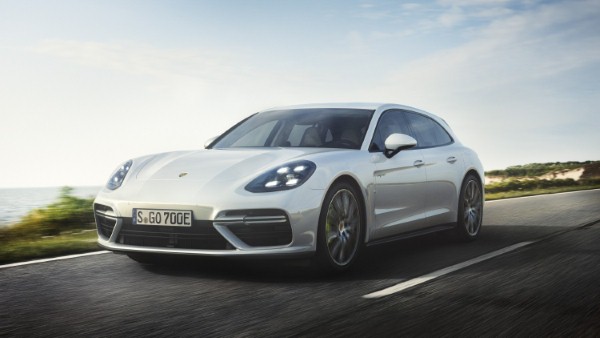 Porsche has just launched its quickest Panamera estate yet and it runs off a phenomenal hybrid powertrain.
The Porsche Panamera Sport Turismo Turbo S E-Hybrid may be one of the longest names for a car we've ever seen but it more than justifies its character length with a system that combines a 542bhp twin-turbo four-litre V8 engine with a 134bhp electric motor, via an eight-speed automatic gearbox.
This means it can dash to 62mph from a standstill in 3.4 seconds, which is 1.4 seconds quicker than the conventional E-Hybrid, and it'll keep picking up speed until it reaches 124mph.
Arguably the most beautiful thing about this Turbo S E-Hybrid though is its environmental credentials, which sees it report a combined fuel economy of 97mpg. There's no official word on its emissions but we'd bet they're equally impressive.
The Panamera's 14.1 kWh lithium-ion battery can provide up to 31 miles of pure electric motoring and recharge within two and a half to six hours, depending on the configuration of electrical charger and power connection. It can also drive at speeds up to 87mph before calling on the power of the roaring V8.
By locating the battery in the car's floor, it has killed off 95 litres of boot space, but luggage capacity remains respectable at 425 litres, opening up to 1,295 litres with the back seats folded down.
Without adding any extras, the Sport Turismo Turbo S E-Hybrid – which launches as the top model in the Panamera range – comes with heaps of equipment such as 21-inch alloy wheels, dynamic chassis control, roll stabilisation, torque vectoring and rear limited slip differential.
Prices venture well into six figures with the cheapest Turbo S E-Hybrid costing £140,868, placing it in direct competition with the Audi RS6 Performance and Mercedes-AMG CLS 63 Shooting Brake.
You can order one now and expect it to be plugged into your power outlet at some point in early 2018.
Stephen Hasley, brand manager at the Green Journey, comments: "The Porsche Panamera Sport Turismo Turbo S E-Hybrid may be quite the mouthful but the numbers seen here make it well worth talking about."