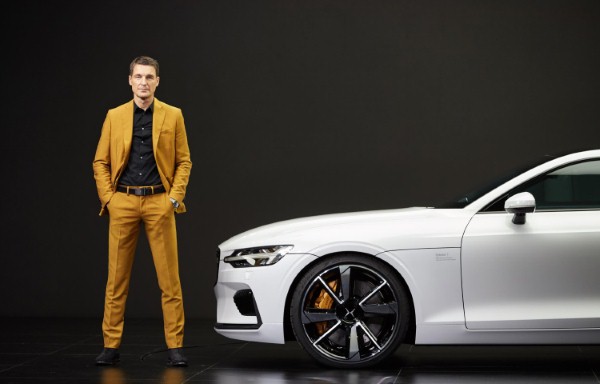 For many years, Volvo's Polestar performance division was tasked with merely souping-up bog-standard Volvo into more aggressive models aimed at petrolheads. It was good at it too, with the V60 Polestar being a notable highlight.
However, the Polestar arm has gained greater autonomy from its Volvo parents and has just revealed its first standalone model: the Polestar 1.
This two-door four-seater hybrid coupe will continue Polestar's focus for performance and will use an 'Electric Performance Hybrid' powertrain to do it.
In the case of most hybrids, car makers start with a conventional petrol or diesel car and bolt in electric elements. But the Polestar 1 has been developed the other way round, beginning life as an electric car before introducing an internal combustion engine.
The result is a car that can produce 591bhp, up to 1,000Nm of torque and drive for more than 90 miles on battery power alone.
At the car's launch, Polestar chief executive officer Thomas Ingenlath [pictured] revealed that all of the brand's cars will adopt a similar electric/petrol approach.
He commented: "All future cars from Polestar will feature a fully electric drivetrain, delivering on our brand vision of being the new standalone electric performance brand.
"Polestar 1 is the first car to carry the Polestar badge on the bonnet. A beautiful GT with amazing technology packed into it – a great start for our new Polestar brand."
Under the skin, the car will use Volvo's Scalable Platform Architecture, a platform used in the second-gen XC90 and XC60.
However, around half of the Polestar 1's components are fresh and designed especially for the new model.
Orders are already being accepted for the Polestar 1 with deliveries due to begin from 2019.
Other models will quickly flesh out the Polestar product range with the Polestar 2 (a mid-sized electric vehicle) expected to join it in 2019, followed by a larger SUV – the Polestar 3 – soon after.
Stephen Hasley, brand manager at the Green Journey, adds: "Although we don't have many figures on the Polestar 1's performance or environmental credentials, Volvo has proved it can hold its own in the plug-in hybrid market with the XC90 T8, so we should expect great things from this newly separated brand."