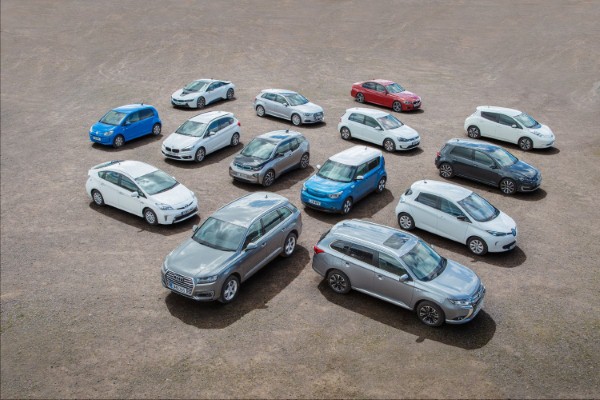 Sales of plug-in cars have been on the up, slowly but surely, in the past few years and July was the best month yet for the plug-in market, as it secured a market share of just over two per cent.
This means that one in every 46 new cars registered in July was a plug-in hybrid or pure electric car, while the first half of 2017 saw more new electric and plug-in hybrid car registrations than in any other six-monthly period.
Additionally, alternatively-fueled vehicles (AFVs) achieved a record market share of 5.5 per cent in July, as consumer demand soared 64.9 per cent, hitting 8,871 new units.
An AFV is defined as a pure electric, diesel- or petrol-electric hybrid (plug-in or conventional) or a hydrogen fuel cell vehicle by the Society of Motor Manufacturers and Traders (SMMT), which compiles data on new car sales.
More than 67,000 AFVs have joined Britain's roads in 2017, almost a third more than in the first seven months of 2016.
While plug-in sales are in bloom, the overall UK car market isn't thriving as much, with the total number of new car registrations falling by 9.3 per cent in July, caused mostly by a 20.1 per cent drop in diesel registrations.
That said, July is typically lax for new car sales, usually ranking as the third quietest month ahead of February and August.
According to the latest sales figures, Britain's biggest-selling plug-in vehicle of all time is Mitsubishi's Outlander PHEV, which combines the functions of a conventional petrol engine and an electric motor to achieve an official fuel economy of 156.9mpg whilst emitting just 41g/km of CO2.
Behind it is the all-electric Nissan Leaf – which was the best-selling plug-in for the first half of 2017, followed by the BMW i3 and Renault Zoe.
Transport minister Jesse Norman said electric and plug-in hybrid cars are helping more UK motorists to cut fuel costs and emissions.
He commented: "The UK is a world leader in tackling climate change and the government is committed to supporting the transition to a low-carbon economy and improving air quality."
Stephen Hasley, brand manager at the Green Journey, added: "Hybrid cars have struck a chord with private and business drivers alike, who appreciate the zero-emission motoring abouttown yet have the power and mile range provided by a petrol engine."