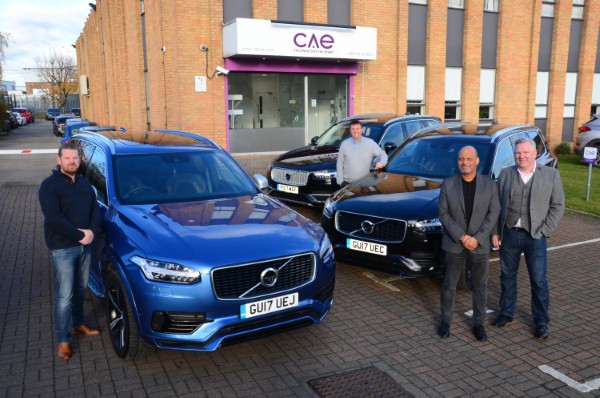 Volvo is a brand renowned for its safety and in the fleet sector, where duty of care is a high priority, knowing that your company car is as safe as possible is as vital as fuel efficiency and low running costs to fleet managers.
So the fleet decision-makers at CAE Technology Services should sleep well after the Watford-based IT infrastructure reseller took delivery of six new Volvo XC90 hybrids.
The XC90 T8 Twin Engine is not only super safe, with a five-star Euro NCAP crash test rating, but it is kind on fleet running costs too, with a combined fuel economy of 134.5mpg and 49g/km CO2 emissions. The plug-in hybrid SUVs will be used by the company's board of directors.
CAE Technology Services managing director Justin Harling said the car's safety credentials were a major factor.
"The safety aspect is particularly important to me and my colleagues because we all have relatively young families," Mr Harling commented.
"It is an area where we just want peace of mind and that's what Volvo brings. The integrated booster seat is a fantastic touch that has come in extremely handy."
As the head of a tech firm, Mr Harling was struck by how the XC90's technology has been carefully thought through in terms of what gets used on an everyday basis.
He was especially impressed by the smartphone integration enabled by the inclusion of Apple CarPlay and the Volvo On Call app, which he praised as "absolutely superb". "It is my favourite app on the Apple Watch," he added.
On a cold morning, the Volvo On Call app lets Mr Harling preheat his car and prepare it for his next journey with just three button presses.
He had lots of kind words for Volvo overall too, adding: "The personality of the brand through its design and performance attributes means the brand stands out on the road. I am proud to drive a Volvo."
The CAE boss went on to say that no other model came close to achieving what the XC90 does, hailing it as a practical family car with great looks and performance, as well as impressive eco credentials.
Stephen Hasley, brand manager at the Green Journey, added: "For responsible, safety conscious fleets, Volvo's plug-in XC90 ticks all the boxes."