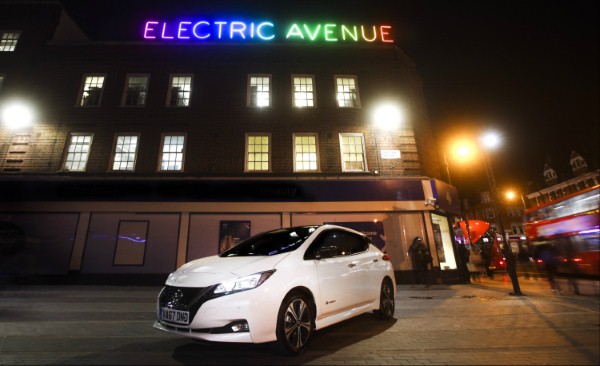 Nissan's all-new Leaf has just gone on sale and to mark the occasion, the groundbreaking car has been placed at the centre of a very apt photo opportunity.
To be frank, there were probably no better suited spots to snap the second-gen electric hatchback than at the crossroads of London's first electrified street and one of its most polluted – Brixton's Electric Avenue and Brixton Road in Lambeth.
Brixton Road broke the hourly air pollution limit 18 times during January, despite EU rules stating that a single location in the UK can only break the limit 18 times in a year.
Meanwhile, Electric Avenue – a landmark market street in South London – was Britain's first shopping street to be lit by electricity when it was built in the 1880s. This was revolutionary at a time when gas lamps were the norm.
Carl Bayliss, Nissan's electric vehicle (EV) business development manager, said the Leaf was "much more than just an EV".
"[It] is a whole new driving experience, designed to move people with greater exhilaration, confidence and connection to the world around them," he commented.
"Nissan looks forward to EVs playing an increasingly important role in the sustainable development of our urban infrastructure – not just improving air quality, but also in the storage, management and distribution of renewable energy."
Prices for the new Leaf start from £21,990 (with the government's £4,500 plug-in car grant applied) for the entry-level Visia model, reaching up to £27,490 for the range-topping Tekna.
The first second-gen Leaf models – which boasts a larger battery and a longer mile range – have already been handed over to customers. Leo Moran, 63, from Hartlepool was the first customer in Europe to collect the new Leaf – a special edition black 2.ZERO model.
After serving in Cleveland Police for 30 years, Mr Moran said he had driven many cars of all shapes and sizes but rated the LEAF as the best car he'd ever driven.
"I've spent the last year singing the praises of the Nissan Leaf and now I have the new edition I cannot wait to get out and play, go on adventures and enjoy the drive."
Stephen Hasley, brand manager at the Green Journey, added: "The motoring press has equally high praise for the Leaf, with What Car? naming it best electric car at their recent annual awards."