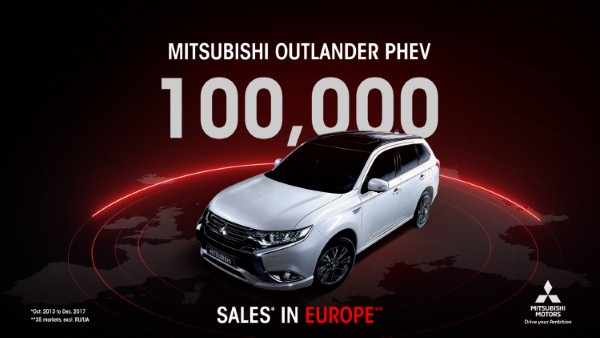 The Mitsubishi Outlander PHEV – Europe's best-selling plug-in vehicle – has hit a major sales milestone and the UK has played a major part in the SUV's success, amounting for more than a third of European sales.
Since the low-emitting SUV launched in October 2013 and since then, until the end of 2017, it has shifted 100,097 units in Europe.
Us Brits can claim a large chunk of credit for its success with 34,108 examples sold in the UK, making it the Outlander PHEV's single biggest market. The feeling is mutual with the SUV holding the title of Britain's best-selling plug-in hybrid for quite some time.
The Netherlands ranked second for Outlander PHEV sales in Europe, with 25,399 units and Norway, which has many incentives in place for plug-in vehicles, coming third with 13,429.
READ MORE: Hybrid and plug-in car sales boom in 2017
Interest in the model has been constant and fairly even over its time on sale. It passed 50,000 sales by November 2015 (i.e. in its first two years), and managed to see off competition as the plug-in segment grew over recent years.
During 2017, the Mitsubishi Outlander PHEV contributed to a 13 per cent combined EV/PHEV share and a 77 percent combined SUV share within the Mitsubishi Motors model mix in Europe.
READ MORE: Britain's best-selling plug-in car revealed
In the UK, it outsold all other pure electric and hybrid plug-in vehicles in 2017, accounting for 7,407 of the 47,263 plug-in passenger vehicles that were registered (15.6 per cent or one in six).
On electric power alone, the Outlander PHEV can drive for 33 miles before firing up the 1.8-litre petrol engine and on a combined cycle, it emits just 41g/km of CO2 and returns a mammoth 166mpg.
Stephen Hasley, brand manager at the Green Journey, commented: "The Outlander PHEV's success is down to the fact that it ticks all the boxes – it is stylish, practical, affordable and cheap to run."