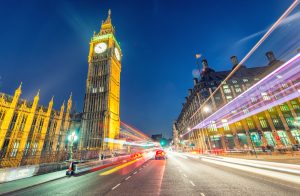 The City of London broke its 2017 air pollution limits just five days into the new year, a whole three days ahead of its 2016 record. In response, Greenpeace enlisted the help of Mary Poppins to call on politicians to clean up the UK's air to protect children's lungs. A silhouette of the childhood champion was spotted flying high over Parliament, armed with her iconic umbrella and a new accessory — a pollution mask.
Under new EU rules, any single location in the UK is only allowed to breach hourly limits of 200 micrograms of NO2 per cubic metre of air 18 times in a year, but late last week, the limit was broken on Brixton Road in Lambeth for the 19th time. The breach means the UK has already violated 2017's annual air pollutions limits just five days into the year. Remarkably, Brixton Road had 17 exceedances in just one day last week.
Over 60 percent of the 97 pollution-monitoring sites in London were reported to have broken legal annual limits in 2016, according to data from a Kings College London study. Putney High Street — another known pollution hotspot — was one of the worst offenders, breaching the air pollution limit more than 1,000 times. Unfortunately, more than a spoonful of sugar will be required to tackle the serious air pollution problem the UK faces.
"In London, new rules will mean new taxis and buses from next year have to be hybrid or better, but nothing is happening on diesel cars despite alternatives being readily available. Unbelievably, the government is still incentivizing consumers to buy brand-new diesel cars that are pumping out illegal levels of pollution," said Paul Morozzo, clean air campaigner for Greenpeace. "If cars coming off the production line had dodgy brakes, you know the government would step in to sort it out. We urgently need to stop the sale of new diesel models until emission testing is truly fit for purpose. Better still, we need car companies to phase out diesel completely and concentrate on hybrid and electric alternatives."
Air pollution has been a hot topic within the health community for the past few months, with doctors, health professionals and campaigners speaking out about its devastating impact on human health, especially children's. NO2 pollution causes 5,900 early deaths every year in London, and most air quality zones across the country break legal limits, and last April, MPs referred to the crisis as a public health emergency.
Read the full story on Sustainable Brands