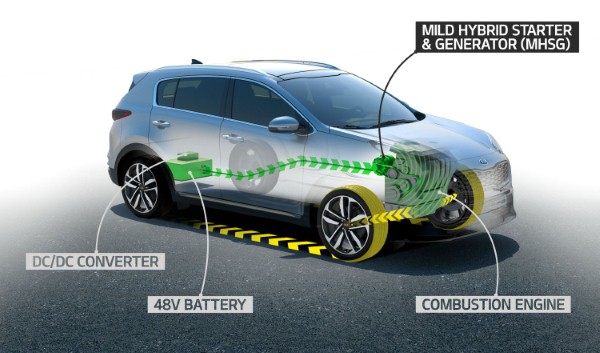 Kia will launch a new mild-hybrid powertrain before the end of the year.
Available in the Sportage SUV initially at the second half of 2018, the new 'EcoDynamics+' 48V diesel mild-hybrid powertrain reduces CO2 emissions by up to four per cent under the new WLTP cycle (seven per cent under the NEDC cycle) when linked to a manual transmission.
It does this by drawing some of its acceleration power from a 48-volt battery and extending combustion engine 'off time' using a new 'mild-hybrid starter-generator' (MHSG) unit.
The new system is also expected to benefit fuel consumption, but Kia hasn't confirmed any details on mpg uplift so far.
After its introduction in the Sportage, the powertrain will be offered in the all-new third-generation Kia Ceed from 2019 and Kia plans to launch 16 advanced powertrain vehicles by 2025, including five new hybrids, five plug-in hybrids, five battery-electric vehicles and, in 2020, a new fuel-cell electric vehicle.
The introduction of the new 48-volt powertrain makes Kia the first manufacturer to offer consumers hybrid, plug-in hybrid, battery-electric and 48-volt technology across its model line-up.
How it works
In 'motor' mode, the battery is discharged under acceleration, providing additional torque to the engine for a slight boost in performance under hard acceleration, or to reduce engine load during light acceleration.
Under deceleration, or when driving downhill or towards a junction, the MHSG switches to 'generator' mode, recuperating energy from the crankshaft to recharge the battery on-the-go.
Compelling cost
Kia says its EcoDynamics+ mild-hybrid technology "offers a compelling cost-to-performance ratio compared to full hybrid powertrains".
It goes on: "The compact nature of the components means the technology can be integrated into existing vehicle and powertrain architectures without impacting practicality or packaging.
"Kia's mild-hybrid powertrain is designed to fit seamlessly into consumers' lives, with no plug-in recharging required."
Stephen Hasley, brand manager at the Green Journey, adds: "Kia should be commended for investigating all avenues with its range of hybrids."