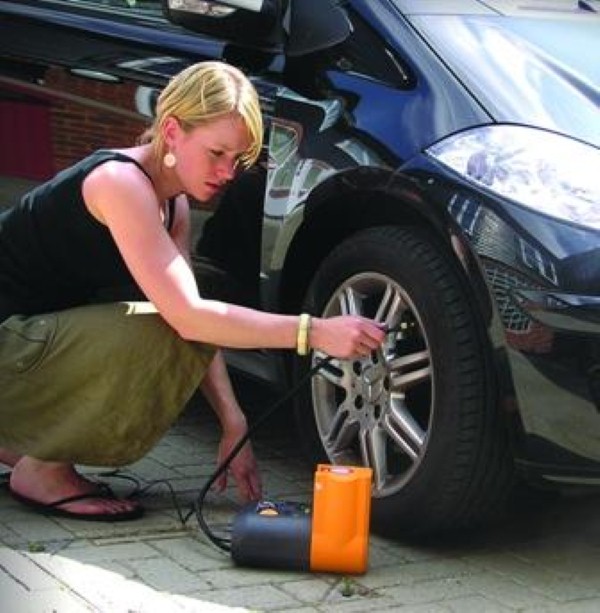 With a post-Christmas icy blast hitting the UK with force, motorists are being warned it's now more important than ever to ensure their tyres are properly inflated before embarking on a journey.
Along with poorer road conditions, drivers are also faced with the issue of carrying around more passengers than normal to the various holiday social events taking place, and an increase in the amount of luggage they're transporting because of the shopping they've done at the sales and presents they might be ferrying around.
As a result, keeping tyre pressure at a high level should be a priority for not only safety reasons but also for comfort and efficiency, according to tyre awareness organisation TyreSafe.
The body's chairman Stuart Jackson said that checking tyre pressure was a straightforward task, and the few minutes it takes to carry out this job could potentially save hours of misery being stranded on the road once the journey gets underway.
One of the main issues caused by under-inflation and over-loading is that excessive heat can build up inside the tyre, increasing the chances of it failing – especially when it is exposed to prolonged periods of running on motorways or A-roads at high speeds.
This can inevitably threaten the driver and passengers' safety, while even if the tyre doesn't fail it can still have a negative effect on the driving experience as it can wear at a quicker rate and can raise the fuel consumption rate of the vehicle, meaning it costs more to run.
"Most cars require different tyre pressure settings depending upon the number of passengers or amount of luggage being carried," Mr Jackson explained.
TyreSafe has issued a series of advice points for motorists looking to avoid falling foul of the issue. Guidance includes checking tyre pressure at least once a month when the tyres are cold (ie when they have been running for less than two miles into a journey) and giving them a look-over to ensure the tyre itself is in good condition.
How can I make my fleet more sustainable, reducing fleet costs and cutting emissions?
Start your Green Journey, the route to a sustainable world, by contacting us today.
This story was posted by Daniel Crosby, Assistant Marketing Executive at the Fuel Card Group.