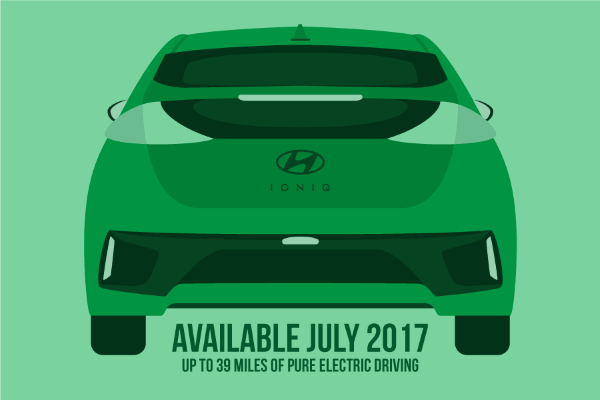 Hyundai has confirmed the asking price for its new plug-in hybrid.
The Ioniq was the South Korean carmaker's first ever electrified model when it launched as a conventional standalone hybrid late last year, receiving positive reviews from the motoring press, some of whom hailed it as a solid contender to the long-reigning Toyota Prius.
A fully-electric version was also made available but now, the petrol Ioniq can be plugged into a main outlet to recharge its battery, which can provide up to 39 miles of pure electric driving before switching over to petrol power for a total range of 680 miles.
The cost for this privilege? £24,995, with the £2,500 Plug-In Car Grant included. That may sound a lot but it's more than £4k cheaper than Toyota's plug-in Prius (£29,195).
Hyundai reckons the plug-in Ioniq represents a great option to fleet buyers and company car drivers. Driven by a 103bhp 1.6-litre petrol engine and a high-efficiency electric motor, producing the equivalent of 60bhp, the Ioniq Plug-In Hybrid achieves a claimed 257mpg at ultra-low CO2 emissions of just 26g/km.
This means it secures a zero-rate VED in the first year and a low BIK rate of just nine per cent for 2017/18.
While 257mpg may sound impressive, it's not quite as strong as the Prius Plug-In's 283mpg, but then you have to take into account the fact you're paying more for the Toyota, so the costs offset each other.
Equipment has been split over two trim levels, with the base Premium model riding on 16-inch alloys while the interior boasts Bluetooth, Apple Car Play and Android Auto, smart cruise control and an eight-inch integrated satellite navigation unit.
This sat-nav system includes state-of-the-art ECO-DAS technology, a predictive energy management feature that optimises the battery charge and discharge, as well as a coasting guide for the driver, instructing them when to lift off the throttle to use less fuel.
The upper Premium SE model (£26,795 on the road with the grant included) adds alloy pedals, ventilated front seats, electronically adjustable driver's seat with memory function, rain sensors and automatic windscreen wipers, front and rear parking sensors, blind spot detection and rear cross traffic alert.
Tony Whitehorn, President and CEO Hyundai Motor UK, said: "We anticipate keen interest from private buyers and fleet users alike, given the Plug-in Hybrid's great value pricing and low tax rates."
Stephen Hasley, brand manager at The Fuelcard People, adds: "By combining petrol and electric technology, Hyundai's new plug-in hybrid combines the best of both worlds."
How can I make my fleet more sustainable, reducing fleet costs and cutting emissions?
Start your Green Journey, the route to a sustainable world, by contacting us today.
This story was posted by Daniel Crosby, Assistant Marketing Executive at the Fuel Card Group.