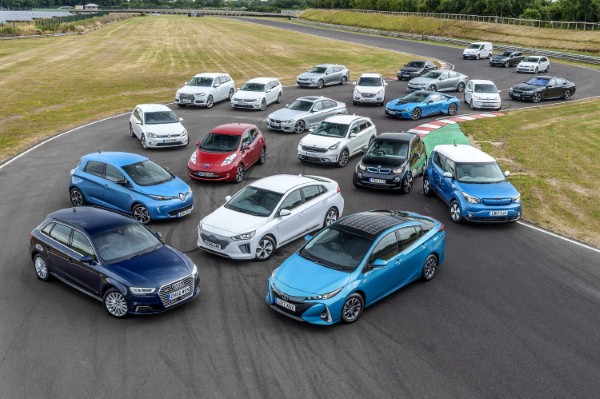 2017 was a landmark year for hybrid cars as sales of alternatively fuelled vehicles (AFVs) ballooned by more than a third (34.8 per cent).
Annual figures published by the Society of Motor Manufacturers and Traders (SMMT) – the organisation that publishes data on the UK new car market – show that a record number of hybrid, plug-in hybrid, battery electric and hydrogen fuel cell cars were registered last year, with 119,786 units sold.
This meant AFV sales secured their highest-ever annual market share, accounting for close to one in 20 cars registered in 2017 (4.7 per cent).
As a result, UK consumers now buy more plug-in cars than anywhere else in Europe as demand grew by a quarter last year.
Which type of hybrids are selling best?
Breaking down the 2017's AFV sales, conventional standalone petrol-electric hybrid cars made up the lion's share, representing three in five AFV registrations (71,522 units). Sales of these hybrids grew by 42.8 per cent in 2017 – more than any other type of AFV.
Plug-in hybrids were the next best seller, claiming 28 per cent of the AFV market with 33,666 units shifted in 2017. The picture was completed by 13,597 all-electric vehicles and 1,001 diesel-electric hybrids.
The year's most popular AFV models haven't been revealed, but figures from the Department for Transport revealed that the Mitsubishi Outlander PHEV was the biggest-selling plug-in car for the first half of 2017.
Behind it was the Nissan Leaf and Mercedes-Benz C 350e, with BMW i3 and 330e completing the top five.
Interestingly though, only two of 2017's ten best-selling cars are currently available with an electric powertrain, in part or whole: the Volkswagen Golf (eGolf, GTE) and Mercedes-Benz C-Class (C 350e plug-in).
READ MORE: This plug-in hybrid you've never heard is the world's fastest-selling car
Hybrid hype?
Mike Hawes, chief executive of the SMMT, believes motorists should not get carried away and choose the car that best suits their lifestyle.
"Consumers should be encouraged to buy the right car for their driving needs irrespective of fuel type – whether that be petrol, electric, hybrid or diesel as it could save them money," he commented.
Stephen Hasley, brand manager at the Green Journey, added: "While the hybrid market is showing considerable growth, it remains a minor part of the overall UK new car marketplace."