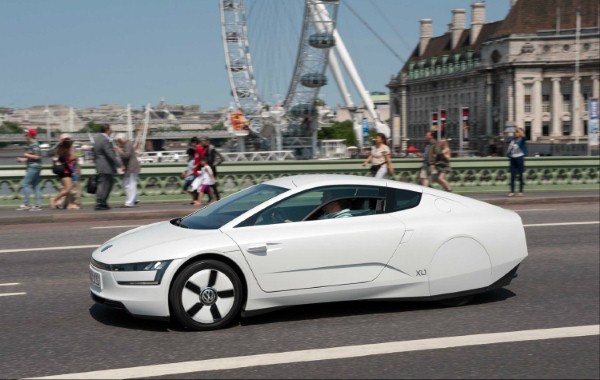 Volkswagen's jaw-dropping XL1 looked like it had shot straight back from the future when the low-slung plug-in hybrid emerged back in 2015.
You may have seen plenty of photos of it since then but it feels like not nearly enough people have had the chance to see it up close in the metal.
That's all about to change though because the uber-efficient two-seater has just gone on display at Beaulieu's National Motor Museum in Hampshire.
The XL1 has joined the museum's Driving Change exhibition, which tells the story of motoring innovations and technology.
With gull wing doors and futuristic exterior, it bears the look of something from Blade Runner or Star Wars but the XL1 is something of a sheep in wolf's clothing.
Beneath the super-aerodynamic surface lies ingenious plug-in hybrid technology capable of achieving more than 300mpg to make it one of the most environmentally friendly cars on the road.
It does this by combining an electric motor with a compact 800cc two-cylinder diesel engine, linked by a dual-clutch seven-speed transmission. This means it can be driven on electric power alone for up to 30 miles on a single charge. It'll stick with electric power until greater power is required, or until the lithium-ion battery charge drops below 14 per cent, that's when the two-pot diesel engine takes over.
The XL1's sleek bodywork isn't just for show. Not only is it aerodynamic, it is constructed from carbon fibre reinforced polymer, which means the XL1 tips the scales at just 795kg, which is less than a modern supermini.
Light weight helps it hit 62mph from rest in a respectable 11.9 seconds, with the top speed electronically limited to 99mph.
Stephen Hasley, brand manager at the Green Journey, comments: "Volkswagen billed the XL1 as 'a car of the future, built today' and with only a handful of them around, green car lovers should seize the opportunity to see this remarkable first-hand."