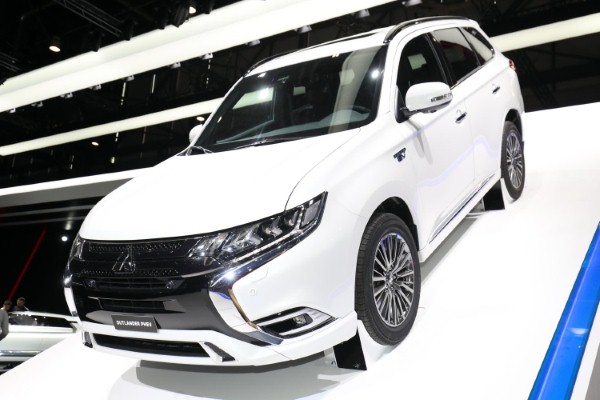 Greener and meaner Mitsubishi Outlander PHEV revealed in Geneva
The best is about to get even better after a new version of the Mitsubishi Outlander PHEV – Britain's best-selling plug-in vehicle – was unveiled at the Geneva Motor Show this week.
Mitsubishi's plug-in SUV recently surpassed 100,000 sales in Europe, with the UK accounting for a third of those, making Britain the Outlander PHEV's biggest market.
However, Mitsubishi Motors clearly isn't resting on its laurels, because the model is now undergoing some very impressive changes.
The most significant modification is under the bonnet, with the two-litre petrol engine being swapped out in favour of a new 2.4-litre unit. This will allow for higher torque, smoother operation and overall higher efficiency – the latter of which is one of the Outlander PHEV's main draws.
Additionally, output from the generator, rear motor and drive battery has been increased by ten per cent, while the drive battery capacity is up by 15 per cent to 13.8kWh.
All these changes are expected to result in lower running costs and a more eco-friendly car, but Mitsubishi hasn't released updated fuel economy figures and we probably shouldn't get our hopes up for a longer pure-electric range.
The car now has four driving modes, with the previous 'normal' and '4WD' modes being joined by 'sport', unlocking more direct control for greater driving enjoyment on winding roads, and 'snow', which should give drivers greater confidence on snow-covered or slippery surfaces.
Cosmetically, the Outlander PHEV has been subject to a few changes here and there, receiving a new set of LED headlamps, updated wheels and a couple of other exterior body tweaks.
Inside, the revised seats are covered in a new leather upholstery and you'll find some other additional instruments and bits of trim; nothing dramatic, just a tidy refresh.
Stephen Hasley, brand manager at the Green Journey, commented: "The Outlander PHEV is Britain's best-selling plug-in car for a reason: it has style and efficiency at the right price. Mitsubishi can expect to shift a fair few more of these for the foreseeable future."