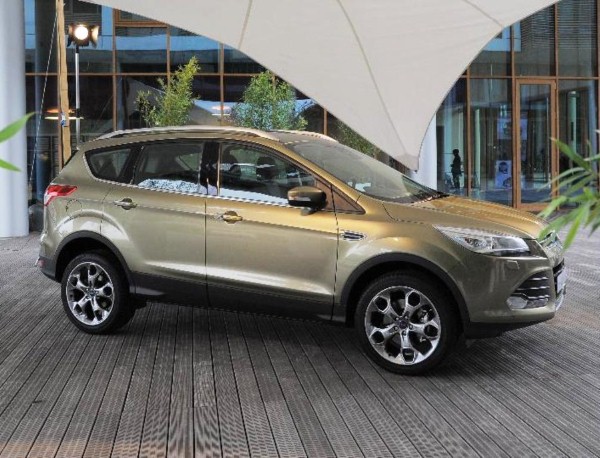 Vehicle manufacturer Ford has announced the launch of its new Kuga range, with the model benefiting from improved fuel efficiency and lower emissions.
Fleet managers across the UK might therefore like to consider investing in this vehicle should they be looking to expand their fleet offering, with the new Kuga available in both petrol and diesel variants, as well as coming with a number of new features as standard.
Two new systems designed specifically to help to save fuel and lower emissions for the Kuga are the Auto-Start-Stop and Active Grille Shutter technologies.
Auto-Start-Stop works by automatically switching off the engine when the vehicle comes to a halt, this significantly cuts fuel consumption in stop-start traffic and always ensures the vehicle is not emitting carbon while roads are at a standstill – making this a perfect addition for fleet users in busy urban areas.
Meanwhile, the Active Grille Shutter works by closing access to the engine bay to oncoming air flow, thereby significantly reducing drag and ensuring the engine does not have to work as hard to propel the vehicle.
However, when the engine becomes hot, the automatic shutters open and allow this air flow to work to cool the engine, as it normally would in vehicles without this system installed.
The manufacturer is also introducing the new 1.5-litre EcoBoost petrol engine to the Kuga range, offering reduced CO2 emissions of 143 g/km from the 154 g/km of the outgoing 1.6-litre EcoBoost engine.
Now available with seven engine variants in all, the most-improved for the new Kuga model is the 2.0-litre Duratorq TDCi, which has witnessed a 12.2 per cent reduction in CO2 output in this latest guise, while still delivering 150 PS of power and producing just 122 g/km of CO2.
Other features of the new Kuga range include driver alerts and lane warnings, traffic sign recognition, automatic high beams, a new blind spot information system to improve safety for both the driver and other road users, as well as a hands-free tailgate, active parking assist and rear view cameras.
Finally, the vehicle is now also available in a range of new colours from the manufacturer – Ruby Red Metallic, Magnetic Metallic and Tiger Eye Metallic.
Roelant de Waard, vice president for marketing, sales and service at Ford of Europe, commented: "Ford has updated the Kuga range with models that deliver more power and lower emissions.
"Tiger Eye metallic is a bold new colour not previously seen on any Ford vehicle, and SYNC with AppLink will help ensure drivers can be more connected on the move while keeping their eyes on the road and their hands on the wheel."
How can I make my fleet more sustainable, reducing fleet costs and cutting emissions?
Start your Green Journey, the route to a sustainable world, by contacting us today.
This story was posted by Daniel Crosby, Assistant Marketing Executive at the Fuel Card Group.