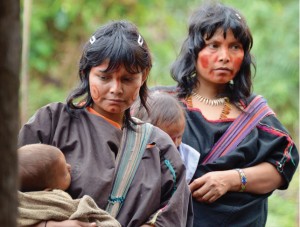 A child born in a remote rainforest area is ten times less likely to reach their first birthday than if they were born in the UK.
In Cutivireni, the main village in Cool Earth's Ashaninka project, the nearest doctor is ten gruelling hours away by boat and truck. And if you live in the furthest village in the project, you first face a 12-hour walk.This remoteness puts people at great risk, especially pregnant women and babies.
Which is why The Fuel Card Group is helping us with a very simple goal this year: to equip each of our partner villages with a Medical Outpost and trained team of first-aiders and midwives. It's less grand than it sounds. Just a weather-proof shed with a concrete floor and basic supplies will make a life changing difference and ensure our partners are strong enough to defend their forest and their families.
And we've got a secret weapon too: Adelaida. The daughter of the Chief of Cutivireni, Adelaida Bustamante is one of the most fiercely intelligent people you could hope to meet. With a background in medicine, she is pioneering our work to protect the mothers and newborn babies in our Ashaninka Project. She's also expecting her first child.
"My happiest moment was when I learned that I was pregnant. Being a mother is a joy and such a gift. I cannot wait to care for my child. But there are downfalls to being a mother in the rainforest. Many of our women suffer from the dangers of childbirth. Last year, I nearly lost my sister Telma, so I am very privileged to be working with Cool Earth to protect the pregnant women of my community. It is so important because our women will be much safer and have the care and support from others".
Cool Earth Director Matthew Owen agrees. "Rainforest is only effectively if protected the lives of the local people are improved. Childbirth is the biggest killer of women in our Ashaninka Project and far too many children die in their first few months of life. What should be the most incredible moment in a couple's life is often the most tragic. Thanks to The Fuel Card Group's support, we're ensuring our partners have the basic equipment and training they need to save lives and keep families safe. "