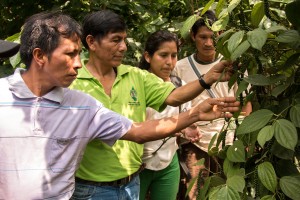 The first thing Cool Earth ever did was ask local people the best way to save their rainforest. They took their ideas and shared them from Peru to Papua New Guinea.
This Christmas, Cool Earth is growing the Forest of Ideas. They're celebrating their partner communities' knowledge and getting ready to share their forest-saving ideas even further in 2017.
Earlier this year they told you about a pioneering trip to Honduras, when growers from the Awajún and Asháninka partnerships learnt a smart way of growing food without clearing forest from the Inga Foundation. In the Spring, the Awajún and Asháninka will meet again. They'll be sharing ideas for improving incomes and health.
The smartest ideas are often the simplest. A 'tippytap' is made from just a few sticks and a plastic container. But it's deceptively clever. By allowing families to wash their hands in running water, tippytaps can halve disease. Forest is only safe when Cool Earth's partners are strong enough to protect it, so they'll share the idea with as many families as possible.
It's not always the obvious ideas that have the biggest impact. You might not think that sewing has much to do with saving rainforest, but in Papua New Guinea stitches save trees. When you're living well below the poverty line, an offer from loggers can be your only choice if someone in your family is sick. Rita Kiddy from Orangerie Bay knew this and did something about it. She used funding from Cool Earth to set up the STALIE women's business group. With brand new sewing machines, they've started stitching. Even better, they've started a savings and loans group. With cash in the bank, trees are safe.
Sewing and making clothes and textiles is a skill many women in Cool Earth's partner villages across the world already have. With investments in business training and savings groups, Cool Earth will turn their creative ideas into income generating micro-businesses.
Along with bakeries, mud stoves, and camera traps, ideas like this are the reason why Cool Earth's partner communities are protecting more forest that any other NGO or government. And thanks to Fuel Card Services they can share those ideas globally and save more rainforest than ever in 2017.
Click here to find out more about our partnership with Cool Earth