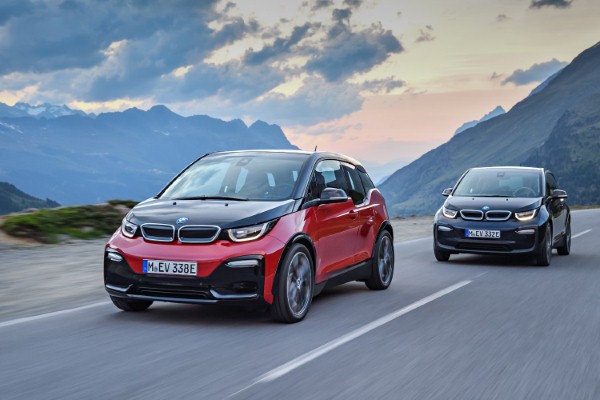 A new sportier version of the BMW i3 has been introduced as part of the popular electric hatchback's midlife refresh.
Priced from £34,070, the i3s boasts a higher power output, a longer mileage range, more engaging handling and sharper styling, compared to the standard i3.
While the regular model uses an electric motor producing the equivalent of 167bhp, the i3s has 181bhp at its disposal, which enables a 0-62mph sprint of 6.9 seconds and a top speed of 99mph.
Sure, it won't be beating the Tesla Model S in any drag races, but this is an improvement on the normal i3's 7.3-second sprint and 93mph maximum speed.
Stylistically, you'll be able to spot the i3s from the road by its exclusive 20-inch light-alloy wheels in double-spoke design that are 20mm wider than what was previously available.
The facelift treatment means the i3 now comes with LED headlights all round along with a black finish on the A-pillars and roof lines.
Meanwhile inside, all i3 models come with an updated version of the iDrive infotainment operating system, with a 10.2-inch hi-res touchscreen.
As with the original i3, the refreshed model will be available as a plug-in petrol-electric hybrid.
This 'i3 Range Extender' introduces a super-efficient two-cylinder petrol engine to the powertrain to – as the name suggests – extend the possible range of the car to a maximum of 205 miles, up from 93 in the standard i3.
On a combined cycle, the i3 Range Extender returns a phenomenal 403mpg with a positively microscopic CO2 emissions of 14g/km.
Stephen Hasley, brand manager at the Green Journey, comments: "BMW's i3 made history when it launched in 2013 as the German brand's first mass-production electric car.
"Four years on, more than 8,000 i3s have been sold in the UK alone to become the world's most popular premium compact car and this updated version suggests that will continue to be the case for some time."