by Steve Clarke – Marketing Manager, The Fuel Card Group
(Fuel Card Group is a trading name of Fuel Card Services Ltd.)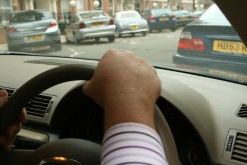 Steve Clarke, Group Marketing Manager of The Fuelcard Group, who are helping their customer to embark on The Green Journey is delighted to learn that two local authorities are calling on drivers to turn off their engines if their car is standing still in traffic to reduce emissions. "It is great news that West Sussex County Council and Mid Sussex District Council are supporting the "cut engine – cut pollution" initiative, which sees the slogan displayed on signs around the Stonepound Crossroads in Hassocks," said Steve Clarke.
"We are always looking at products, services and advice that we can give our customers, which will help them to reduce carbon footprint, and the running costs off their fleet," added Clarke.
West Sussex County Council and Mid Sussex District Council hope this will prompt motorists to consider the environmental advantages of not keeping their engines running while they are waiting at traffic lights.
Pieter Montyn, cabinet member for Highways and Transport at West Sussex County Council, commented: "Drivers may not think that they are stopped for long, but every little helps and it's important that we do what we can to combat the negative effects of vehicle emissions."
Councillor Christopher Snowling, cabinet member for health and community at Mid Sussex District Council, added that turning engines off in stationary traffic is "one small action" that drivers can take to make roads less of a public health risk. He stated that taking this advice will make a big different to the air quality of people who live in the Hassocks area, as well as help motorists reduce the amount of money they spend on fuel. Mid Sussex District Council is happy that air quality in the area as a whole meets the required standards.
Nevertheless, the sheer volume of traffic passing through and queuing up at the Stonepound Crossroads means the air quality in this specific location is not as good.
The authority has recommended a number of other measures beyond erecting the signs in order to address the issue. Among its suggestions is the option of reviewing how traffic signals at the site are operated and whether or not drivers should be advised to take alternative roads to their destinations.
Mid Sussex District Council has also proposed encouraging people living in the area use other methods of transport to get around. For instance, it said children could get to school by walking, cycling or taking a bus rather than be driven by their parents in a car.