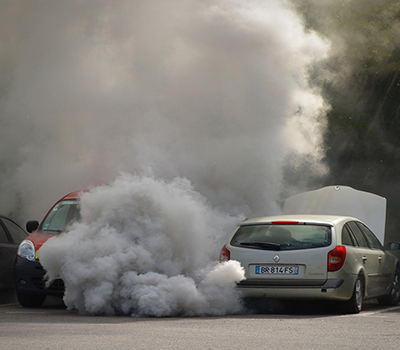 Making efforts to lower levels of pollution coming from traffic could have a substantial and rapid effect on public health, according to new research.
The Environmental Committee of the Forum of International Respiratory Societies in Switzerland carried out an investigation into worldwide air pollution interventions and how they impacted illness rates and hospital admissions.
Results with surprising speed
It was found that a number of previous projects had had a positive effect on health – and that the results may have happened faster than might have been expected.
Among the interventions analysed was China during the 2008 Olympics, where factory and road travel restrictions were imposed between July and September.
This resulted in a drop of up to 62 per cent in air pollutant concentrations and a 58 per cent reduction in asthma-related hospital visits within two months. Cardiovascular mortality and inflammation also decreased, the study found.
Looking further back, another example cited was the alternative transportation strategy in Atlanta during the 1996 Olympics. Four weeks after parts of downtown were closed off to private cars, the researchers noted Medicaid results showed a 42 per cent drop in childhood asthma-related hospital visits, as well as a raft of benefits to other vulnerable groups.
Writing in the journal Annals of the American Thoracic Society, lead author Dr Dean Schraufnagel said the research showed a number of instances in which interventions had quickly cut the largely avoidable health risk of air pollution.
"We knew there were benefits from pollution control, but the magnitude and relatively short time duration to accomplish them were impressive. Fortunately, reducing air pollution can result in prompt and substantial health gains," he added.
A case for increasing pollution targets
This comes after the British Heart Foundation warned that breathing air in some of the UK's most polluted areas is as bad for the body as smoking 160 cigarettes a year.
It called upon the government to bring in stricter anti-pollution laws aimed at bringing atmospheric particulate matter (PM2.5) below ten micrograms per cubic metre, which is the target used by the World Health Organisation.
At present, the UK is following EU regulations that suggest pollution only needs to be limited to 25 micrograms per cubic metre.
However, local authorities can reduce pollution coming from the roads in their areas using their own traffic control powers. They are obliged to monitor road traffic and set reduction targets, plus they can make Traffic Regulation Orders and implement traffic-calming measures that will reduce emissions.
It is also possible to carry out random roadside tests on vehicles in Air Quality Management Areas to spot the most polluting vehicles that may be breaking emissions rules.
Pollution from traffic has been linked in recent studies to everything from autism and anxiety to infertility, breast cancer and even psychosis.
Steve Clarke, marketing manager at Green Journey, adds: "We might assume that reducing the pollution coming from our roads would take a while to have a positive effect, but this new research shows that isn't the case. It presents a powerful case for ensuring our industry is as green as possible, whether that involves eliminating unnecessary journeys or making cars themselves even more efficient."