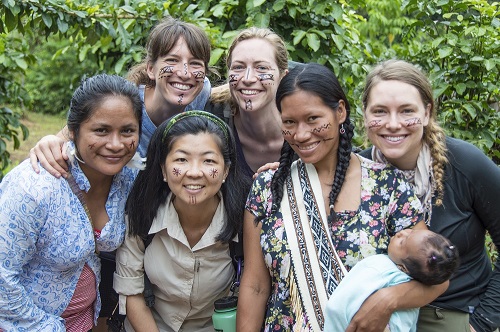 Cool Earth's Project Coordinator Hannah has recently returned from our Ashaninka Project in Peru with maternal health NGO One Heart World-Wide.
The trip introduced our Healthy Birth project to our partner villages and identified the key issues mothers
and babies face in this remote region. Childbirth is the most common cause of death for women in our
Ashaninka Project. The remoteness of the villages creates huge difficulties in accessing emergency
healthcare. With an average of 300 babies born in the project each year, there is an urgent need for people in the community to have knowledge of maternal and infant healthcare. Thanks to Fuel Card Services support, we're able to start meeting that need.
Here's an excerpt from Hannah's trip diary:
"Mothers carrying babies and toddlers started to arrive early in the morning and the Cutivireni village
community hall soon filled with 75 women. Many women had travelled a day by foot to get there. Robin and Narcisa from One Heart World-Wide introduced themselves and got everyone standing in a huge circle around the hall, passing a large ball of string from one person to the next. Narcisa and Robin demonstrated that if a few women let go of their piece of string, the network of threads they had made fell down. This represented the importance of all the women staying healthy and working together for a strong community.
Before long the women were all talking about theirexperiences of maternal health problems in their
villages. The issues were written on pieces of paper, andthe women placed a leaf on each health issue they had experienced. One of the most common was diarrhoea,a treatable condition that's often fatal: a baby that gets diarrhoea in the morning can die of dehydration by theevening.
Robin and Narcisa explained that the best way to treat diarrhoea is to breastfeed. But if that's not possible the baby should be fed with spoonfuls of a solution of waterwith a pinch of salt and sugar (which should, they said, taste like a tear). Fresh coconut water can also be used as it's guaranteed to be clean, and has vital sugars in it already. Replenishing vital fluids in these ways will save lives."
Education is just one part of the safe birth programme, which will equip villages with the tools and knowledge they need to make births safer. The help given by Fuel Card Services is enabling programs like this, Cool Earth is able to help empower the Ashaninka and support a strong people for a safe forest.