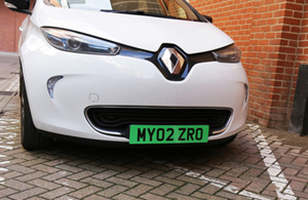 A new public consultation has been launched as part of the government's ongoing Road to Zero Strategy, to examine the impact of introducing green number plates for zero-emission vehicles.
It follows the unprecedented increase in the number of zero-emission vehicles on the UK's roads in recent years.
Driving towards a greener future
The consultation will examine public appetite for the launch of new green number plates that would make zero-emission vehicles more easily recognisable for all.
Further proposals include allowing vehicles with these new plates to access a range of incentives for low-emission drivers, including access to bus lanes or cheaper local parking.
The move follows a similar initiative in Ontario, Canada.  Where local authorities offered similar incentives to the owners of electric vehicles. It resulted in a significant increase in uptake for these vehicles.
Elisabeth Costa, senior director at the Department for Transport's Behavioural Insights Team, explained: "Green number plates make these vehicles, and our decision to drive in a more environmentally-friendly way, more visible on roads.
"We think making the changing social norm noticeable will help encourage more of us to swap our cars for cleaner options."
The consultation will now seek the views of industry and the public, to determine whether or not the new proposals should go ahead. As well as examining different aspects of the scheme such as vehicle eligibility and number plate design.
Steve Clarke, marketing manager at Green Journey, adds: "Rewarding those who limit their environmental impact by switching to low- or zero-emission cars is a positive step towards supporting a greener future for us all."