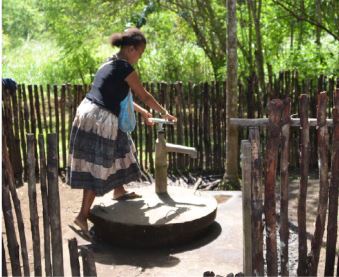 Rainforest is only safe when there is a village strong enough to protect it. But many of our rainforest partners lack life's most basic need: safe water. You might think that water would be the last problem in a rainforest. After all, two metres fall each year. But a combination of illegal logging, mining and cocaine production up river have polluted traditional water sources in the Amazon. And in Papua New Guinea, rising sea levels are flooding village wells with salt water.
In Cool Earth's Yakolima partnership in Papua New Guinea, 94% of households do not have access to clean water and 63% do not have access to a latrine. The task of collecting water falls predominantly to women, households having to make two or more trips a day. Diseases from dirty water are widespread but could be prevented with the most basic sanitation. Clean water alone can reduce water-related deaths by 21%. Hand washing can reduce these deaths by 35%. Tackling water-related diseases is simple to do, and thanks to supporters like
Fuel Card Services, Cool Earth's village partners are making a start this month.
We plan to make sure every single one of our partnerships across the Amazon, the Congo, and Oceania, has access to clean safe water, and we're starting in Papua New Guinea. Cool Earth will invest in latrines, watertanks and improvements to existing wells. This, coupled with basic sanitation training, will see the incidence of disease and infection fall dramatically, income benefits through time saved from gathering water, and our partners' lives improved.
Simple steps to a safer future.
The Plan
Cool Earth will do five things for our village partners in Papua New Guinea:
1. Provide access to a clean water supply for every household. This means covered tanks, hand pumps, and clean water facilities for the partnership's three schools.
2. Install raised, ventilated improved double pit latrines (that's a loo to you and me) for every household in the partnership.
3. Improve waste management across all the villages in the partnership, so it doesn't taint the water supply and block drainage systems.
4. Reduce cases of malaria and dengue fever by draining pools of stagnant water close to villages.
5. Increase sanitation awareness and education in the village schools.