Cool Earth's partner villages in Papua New Guinea lack life's most basic need – safe water.
In remote areas of the country like the ones Cool Earth works in, 94% of households do not have access to clean water and 63% do not have access to a latrine.
The task of collecting water falls predominantly to women, with 91% of households having to make two
or more trips a day.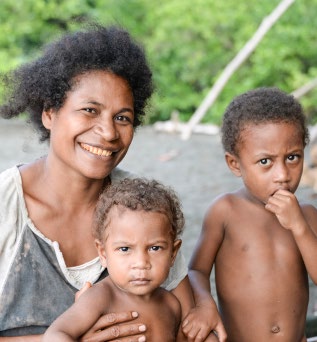 Diseases from dirty water and a lack of sanitation are burdening these villages, despite these illnesses beingreventable.
We know that tackling water-related diseases is simple to do. Clean water alone can reduce water-related  deaths by 21%. Handwashing can reduce these deaths by 35%.
That's why this Christmas we're supporting Cool Earth so they can provide resources and training to improve  basic sanitation. This will strengthen families and ensure they are able to defend their ancestral lands.
It will also develop a model that can be replicated in indigenous communities throughout PNG.
The project will benefit the three rainforest communities of Gadaisu, Wabumari and Asiaro in Milne Bay Province: a total population of more than
1,000 people.
We're supporting Cool Earth with this ambitious plan through the Big Give Challenge.
The challenge takes place online over two days in December – where the race is on to get our donation
matched.
Find out more about Cool Earth at coolearth.org
Visit the Cool Earth Big Give project at http://new.
thebiggive.org.uk/project/backtobasics