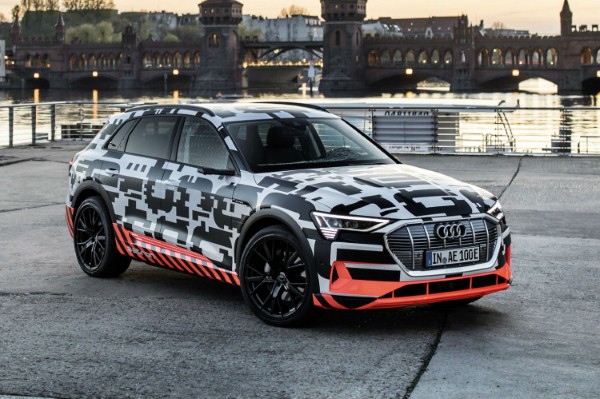 Audi's forthcoming all-electric e-tron SUV could mark a new milestone for electric vehicle (EV) charging by becoming the first car on the market capable of recharging at voltages up to 150 kW.
This means that after roughly 30 minutes of being connected to one of these high-output DC charging stations, the e-tron would completely refill its large lithium-ion battery, providing a range of more than 248 miles.
As Britain's charging network continues to expand and strengthen, there could be nearly 200 of these high-power charging stations across Europe, each housing six charging points.
Additionally, there are plans to position them in a total of 400 locations at intervals of approximately 75 miles along highways and main transport routes by 2020. The electric SUV can also be charged on the move with alternating current at AC chargers up to 11 kW as standard.
Audi has deployed 250 prototype e-trons during the testing process, racking up more than three million miles and around 85,000 hours on the road under the most extreme of conditions from below -20 to above 50 degrees celsius.
The e-tron will be first Audi to be built on the VW Group's next-generation MEB platform, which is deemed to be one of the key cornerstones underpinning the brand's advance towards widespread electrification of the model portfolio. More than 20 electric cars and plug-in hybrids will join the Audi range by 2025.
Many details on the e-tron are yet to be confirmed, but you can ensure you'll get one come release day by putting down a deposit of £1,000.
The first models are expected to be handed over to customers by the end of this year.
Stephen Hasley, brand manager at the Green Journey, commented: "Audi has already delivered some impressive plug-in hybrids so it'll be interesting to see how its debut EV measures up."